During Covid-19 Pandemic, there is the requirement of control measures to prevent the transmission of coronavirus, Foot Operated Hand Sanitizer Dispenser can help to stop the transmission of the virus in your home/workplace. As we know businesses are now getting started again and employees start doing their work from offices rather than from home. So, it becomes crucial to implement public safety strategies into your workplace.
Gagan Enterprises manufactured and supplied the best quality Foot-operated hand sanitizer stand holder to provide the most accessible sanitation for all employees in your facility. No-touch hand sanitizer stands to provide a huge no of benefits to your employees at the workplace in order to stop or prevent the coronavirus.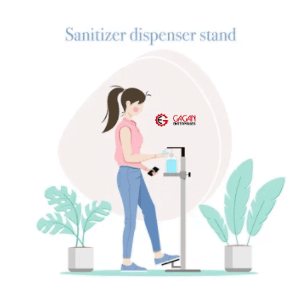 Benefits/Importance of having Foot-operated Hand Sanitizer Stand at your workplace: 
No direct contact:

The " NO TOUCH" component helps the employees to reduce the spread of germs during a covid-19 pandemic. Unlike other ordinary sanitizer/ hand washing, a foot-operated feature removes the risk of unnecessary touch with hands which delivers a powerful sanitizing solution in one quick, convenient action.

With the use of the same soap, sanitizer increases the chances of spreading the virus within the workplace but Gagan Enterprises comes with the solution of having a Foot-operated hand sanitizer stand holder at your workplace. This stand eliminates this risk by removing unnecessary touch as it is operated by foot.
Easy Accessibility:

A touch-free hand sanitizer dispensers are an appropriate way for workers to maintain hygienic control practices. It is important to place Sanitizer stands in the workspaces, offices, break rooms, or areas of high traffic so that employees remember to sanitize their hands from time to time.
Key Locations for Hand Sanitizer Stands:
Entrances and exits: 

A doorknob is the main reason for a widespread coronavirus in the workplace. In fact, a new study showed that within two to four hours, a coronavirus placed on a doorknob was picked up by many workers and visitors within the workplace. So, it is important to place sanitizer stations at the entrance and exit to prevent or stop the spread of the virus within the workplace.

Food Courts and Break rooms:

Before eating anything, there is a requirement of sanitizing hands so viruses can be eliminated from hands. So, it is one of the important places where you need to place a sanitizer stand in the workplace.

Meeting Rooms:

Meeting rooms are often full of employees, clients, guests, and other visitors who exchange handshakes, thus spreading the virus. An easy-to-access Foot-operated hand sanitizing station, either near the door or at the table, allows them to remove viruses from their hands.

Employee desks: Desks, phones, computer keyboards, and computers are the main germ transfers because people touch them so often. As we know employees spend most of their day at their desks where they can eat, drink, and even cough and sneeze, desks become "a minefield of viruses" where viruses can live for up to 72 hours. So, placing hand sanitizers at individual desks keeps hand hygiene.